RK-PowerFull Batteries
RK-PowerFull Battery is designed and manufactured in Turkey for hard conditions of use. It provides high performance and long life with its advanced calcium technology.
RK-PowerFull batteries are always a reliable and robust partner for vehicles with low electrical consumption and offer performance values above the general standards.

** If you are not sure which battery is suitable for your vehicle, you can get support from us

---
PRODUCT TYPES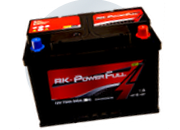 PASSENGER AND LIGHT COMMERCIAL VEHICLE BATTERIES
RK-PowerFull passenger and commercial Batteries are the most suitable solution for passenger vehicles with high technology and charging system commercial vehicles, off-road vehicles, 4x4 vehicles and light commercial vehicles.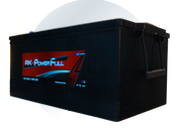 HEAVY DUTY BATTERIES
The RK-PowerFull Battery heavy-duty truck series is specially designed for harsh operating conditions. Our batteries of various sizes and features have extensive usage areas such as heavy vehicles, tow trucks, trucks, construction machines, buses, ambulances and fire trucks.
---
Banner Batteries
The Banner is an internationally renowned Austrian company that manufactures products for batteries and battery accessories to the highest quality standards. The reason why customers from all over the world chose Banner as a partner is the innovation power, customer intimacy and quality of communication offered by a family business.

Banner has an international reputation as an experienced manufacturer of electrical distribution and generator systems with the quality of choice as original equipment in many segments such as all vehicle groups, marine, forklift or lifting platforms. Although it has received many awards in this field, you can be sure that it is striving to improve consistently with an absolute customer focus.

** If you are not sure which battery is suitable for your vehicle, you can get support from us
---
PRODUCT TYPES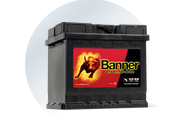 STARTING BULL
In addition to the existing calcium technology to back up a maintenance-free feature, the new Starting Bull once again provides improved protection against infiltration. At present, the most demanded 12 types between 40 and 95 Ah are offered to customers with a reliable 4-chamber leak-proofing device, which is also appreciated for its central gas removal and integrated backfire protection.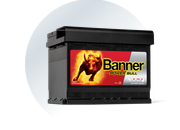 POWER BULL
Pure calcium technology for more starter power, Double Top leak protection and improved backfire safety have satisfied the customer at the highest level for years. Currently, Banner supplies this technology to brands such as BMW, Skoda and VW as original equipment.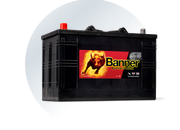 BUFFALO BULL
The starter battery is suitable for all vehicles (trucks, buses, agricultural and construction machinery, runway equipment). These batteries serve to start the engine and supply the machine network with electricity (especially Buffalo Bull SHD).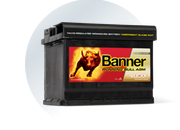 RUNNING BULL
Our best batteries for vehicles with modern start / stop applications. Running Bull EFB, Running Bull Back Up and Running Bull AGM: Banner fully meets the energy supply needs of start / stop vehicles with its specialized Running Bull series. Running Bull's high cycle durability is a vehicle battery that can easily handle heavy loads caused by the numerous start-ups of Micro-Hybrid vehicles.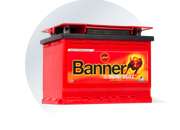 UNI BULL
Space-free Uni Bull fits just over five models with over 900 motor vehicles and thus saves space and money on behalf of the seller. This battery can be used worldwide thanks to the round and Ford-pole connection and the variable bottom bar with an additional adapter. Besides, comfortable carrying handles serve as pole covers. Thanks to modern pure-calcium technology, it now has 30% more performance and a Gore membrane as patented protection against leakage.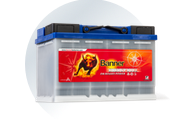 ENERGY BULL
With Energy Bull, Banner offers a special accumulator for your hobbies and leisure. Energy Bull's features reinforce this product and make it an ideal energy tank for a wide range of other applications, from camps/caravans, boats and signal systems to electric motor drive accumulators.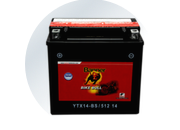 BIKE BULL
Bike Bull is the first choice wherever pure power is sought in motorcycles. This power pack from Banner offers everything you need for driving fun, especially for motorcycle riders.